LINK:
http://www.thedailytimes.com/entertainment/straight-on-till-morning-kelsey-s-woods-founders-rely-on/article_f59f2b5b-a432-5b6b-80de-28cd3f130e9f.html
STRAIGHT ON TILL 'MORNING': Kelsey's Woods founders rely on friendship and music to keep rolling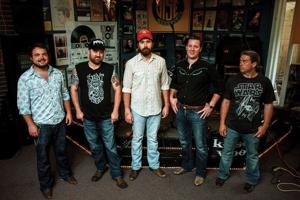 MARK LARGE | THE DAILY TIMES
Kelsey's Woods — (from left) Austin Stepp, Andrew Bryant, Dave Kennedy, Russ Torbett and Stevie Jones — will celebrate the release of a new CD next weekend in Knoxville and Maryville.
Posted: Wednesday, April 22, 2015 7:30 pm | Updated: 7:33 pm, Wed Apr 22, 2015.
By Steve Wildsmith | stevew@thedailytimes.com | 0 comments
It's difficult to imagine how Kelsey's Woods might sound — or if there would even be a band at all — without the friendship between singer-songwriter Dave Kennedy and bass player Russ Torbett at its heart.
Now six years old, the band is a far cry from the acoustic-based trio the two men launched with former fiddler Shawna Cyphers. Keyboard player Stevie Jones, drummer Andrew Bryant and guitarist Austin Stepp — a 2004 graduate of Heritage High School and a veteran of the Maryville-based Jeff Jopling Band — have added a muscle and complexity that allows Kelsey's Woods to shift gears from heartbreaking weepers to destroy-an-amplifier explosives, often within the scope of a single set.
With such a deep bench, it would be easy to put together a band of considerable country-rock prowess. What's considerably more complex, however, is navigating the waters of the East Tennessee music scene and finding equal measures of acceptance in places that encourage and support original music, like Barley's, and in bars where on most weekends the customers go to hear cover bands, like Two Doors Down in downtown Maryville. Next weekend, the band will celebrate the release of a new album — "When the Morning Comes Around" — with shows on May 1 at Barley's Knoxville and May 2 at Two Doors Down in Maryville … and whether the boys choose to play a song for the brokenhearted loner nursing a whiskey at the bar with his back to the stage or one for the four wild girls screaming and hollering up front, they'll be more than capable of doing so.
"In the beginning, we were more acoustic-based, because that's what we were familiar with," Torbett told The Daily Times this week. "We weren't ready to go up and kick the footlights out and set the fireworks off; we wanted to, but that's not what we did. But as we branched out and added new voices to the band, it started to take on this form, and the ball started rolling on its own. The sound has gotten louder and brighter and rowdier, but it's also turned inward, too, because the songs are getting more personal.
"There's a certain groove to them that's just a lot of fun, but if you listen to the words of a lot of them, they're sad and dark songs, like the old country and murder ballads — but they're juxtaposed with fun, upbeat rhythms and chords and what-not, and that makes it fun. It's like Johnny Cash's 'Cocaine Blues' — that's not exactly a happy song, but everybody loves it and dances to it, because it's got that train beat to it."
Johnny Cash is a point of reference dating back to high school for Torbett and Kennedy. The guys went to preschool together, went to separate elementary schools and came back to the same school around the seventh grade. In high school, Kennedy was the principal's son; Torbett ran with a more rebellious crowd.
"He doesn't like me to tell it, but they were the guys out there trying to buy beer and cigarettes; they were the cooler kids, but I was never cool, because I was never able to get in trouble," Kennedy said. "Eventually, my dad kicked all of his friends out of school, and he didn't have anybody to hang out with."
The two were on the baseball team together and in the band — Kennedy played trumpet, Torbett played the drums. They bonded over music, and they introduced one another to their respective worlds.
"I introduced him to country, and he introduced me to a lot of harder rock 'n' roll," Kennedy said. "We went to college together, and we roomed together for five years, and when you're living together for that long, that's all we did."
The two guys played guitar and started a cover band in college, but it wasn't good enough to gain much traction. Eventually, they decided to try and start a local jam session with friends at Toddy's Back Door Tavern on Kingston Pike in Knoxville's Bearden neighborhood; Kennedy ran into Cypher around town and, knowing that she was a violin player, invited her to sit in.
It went well — so well, in fact, that the gatherings became more and more frequent, and Kennedy started bringing original songs to the group for arrangement. Eventually, the band was asked to play for a benefit in 2009, and the trio scrambled to come up with 45 minutes worth of material. They remained a trio through 2012, when the band released its first album, "One More Heart to Break," but when Cyphers stepped away, they rearranged the lineup and brought on board Bryant and Jones, giving the songs a more muscular feel and an ability to flesh out Kennedy's original songs unrestrained by the framework of no-drums acoustics.
Stepp, in fact, was the final piece of the Kelsey's Woods puzzle, but his multi-instrumental skills have proven the most valuable during the creative process for "When the Morning Comes Around," Kennedy and Torbett said.
"He plays guitar and fiddle, and that was something we needed both of, because with Shawna and Will (Carter, who played briefly with the band) gone, there was a big hole to fill on both the rhythm and lead side," Torbett said. "He plays guitar, fiddle, mandolin; he sings harmony; he writes — he fit right in."
"The first song ("99 Miles"), I heard that guitar melody in my head, and it was something specifically I wanted, but I'm not a good enough guitar player to do that stuff," Kennedy added. "I would tell the guys, and they were able to translate them. I heard these songs a lot more as the product of a band than of a singer-songwriter guy with a guitar, which is a lot of what that first album was. The guys helped make the songs a little more complex, and it was something that we were excited to do."
With the instrumental muscle behind his words, Kennedy's songs become vibrant pictures of desperados and damaged men, running from the law ("99 Miles") or running to a lady of the evening ("Jezebel"), drowning sorrows in a bottle ("Bottle to Forget") or looking toward the sunrise over the distant hills in hopes it heralds the arrival of a better day on the road to a new place ("When the Morning Comes Around"). Songwriting, he added, may come naturally to some writers, but the ones he pens today are a far cry from the ones he tried to write a decade ago.
"I'm come a long way with my writing, my singing and my playing," he said. "When I was younger, I hadn't really gone through anything. I hadn't had my heart broken yet. all the things that were important hadn't happened to me yet."
The experience and the wisdom that comes from living life not only makes for better songs, Torbett added, it gives those songs a certain gravitas that might have been lacking before.
"I just think there's this confidence, and at the risk of sounding silly, just a little bit of swagger and more maturity and worldliness," he said. "If you listen to this record and the songs and the progression, it's about living and about dying. You're having your fun, but by the end of it, you're so worn down, you're ready to crawl off out to the pasture."
On the other hand, the members of Kelsey's Woods, however, are just hitting their stride. The new album matches more closely than anything he's ever done the sounds Kennedy first heard in his head, and the band's calendar is filling up quick for the summer. (They'll return to Maryville to open for Drivin' N' Cryin' on July 18 at "The Shed" at Smoky Mountain Harley-Davidson.) They'll probably be back at Two Doors before the summer's out, and they'll make the time to play whenever they can, wherever they can, as long as family commitments (Torbett is a new dad) and job responsibilities allow them.
Because in the end, they added, they don't do it for the fame or the fortune. Such a reward might be nice, but at its core, Kelsey's Woods is about friendship and a love of music.
"We're a country band — that's what we want to be, and we don't make a lot of bones about it, and we don't apologize for it — nor do we want to apologize for it," Kennedy said.
"At the end of the day, whether we make a dime or we don't, it just feels good," Torbett added. "We just want to have fun, and we want everybody else have fun with us. That's what it all comes down to. We want people to say, 'That's a good song; these guys are having fun, I'm having fun, and we should do this more often.'"
IF YOU GO 

Kelsey's Woods CD release show

WHEN: 10 p.m. Friday, May 1; 10 p.m. Saturday, May 2

WHERE: May 1 at Barley's Knoxville, 200 E. Jackson Ave., the Old City; May 2 at Two Doors Down, 118 E. Broadway Ave., downtown Maryville

HOW MUCH: Both shows are free

CALL: Barley's at 521-0092, Two Doors at 970-7771